Creative minds think alike
In the case of product development, it is the convergence of two phenomena – the need for companies to grow revenue while customers look for companies to fulfill their unmet needs, a useful symbiotic relationship, and profitable for companies that keep their eye on the ball.  Customer needs can vary in strength and importance from a simple frustration to a major quality of life issue.  Our aim is to help you identify the most important unmet needs of customers that can be served by your company (early in the process), and create a development path that is informed by all of the various criteria to reduce risk and increase market acceptance. To bolster the process we include two additional service offerings from our portfolio, the Market Opportunity Assessment, and the Product Concept Test study. Each of these can be standalone studies, but when combined in this setting they are extremely useful. Our step-wise process informs decision making at each juncture; thereby filtering out losing ideas quickly and early before a great deal of time and resources have been invested. Our approach provides companies a way to systematically develop products and services that leverages their core capabilities, meet target audience needs, and not lose time to market advantage.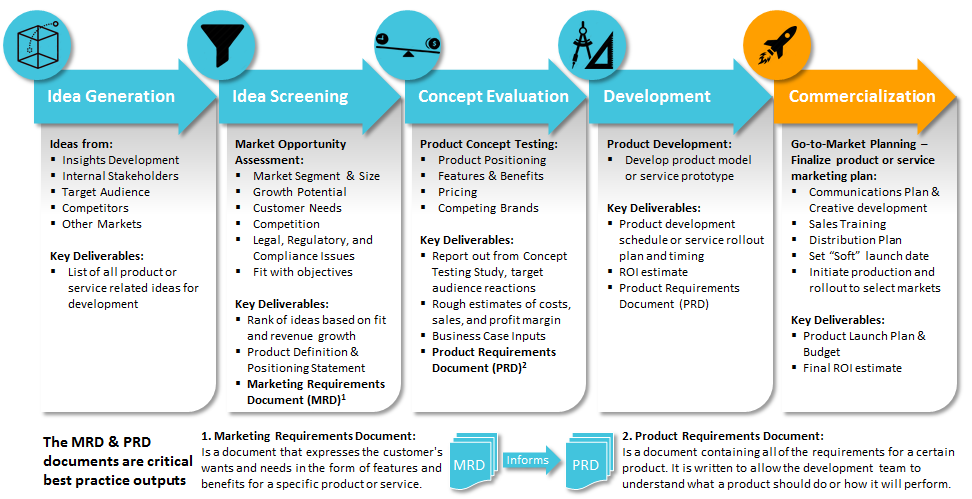 What we do...
Depending upon where you are in the development cycle we can aid in any or all of the steps outlined here.  Often companies have ideas they want to explore and this turns into a market opportunity assessment.  However, if we begin at the start, we will help moderate discussions to facilitate idea generation – very important step. Idea generation is one of the most, if not the most critical factors. Good product development depends upon good ideas, along with the  necessary science to commercialize those ideas.


Your competitive advantage…
Using the best practice approach outlined here will help you introduce new products and services that are targeted for immediate acceptance.