Framing the possibilities
Companies by their very nature are on constant lookout for revenue opportunities, and with that, ask the inevitable what-if questions (what if I expand my selling footprint, extend my current product line, or launch a new product?).  As for those just starting out desperately seeking revenue growth, the questions asked are a little different, but the assessment remains the same. Our market assessment process will help you to understand and quantify the opportunity itself, as well as the necessary conditions and steps to reduce risk, increase feasibility, and add economic value.  We remain objective and let the facts lead us where they may.  Often times, we and the client start down one path and end up on a new one that is just as attractive, but a better fit. Or, if we deem too many hurdles in the way ,and/or unknowns where the risk is overwhelming, we'll send up a flare. There are two ways to enter (or re-enter) a market—either through an expansion, or with a new product or service entry. Both of these strategies require a thorough analysis and reconciliation between the many external and internal factors.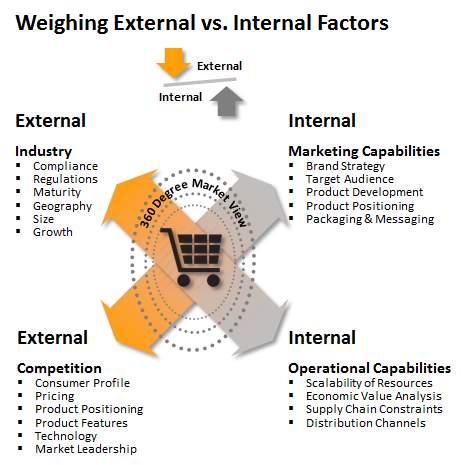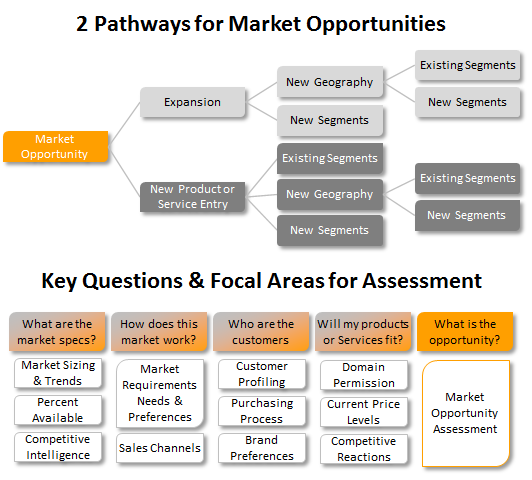 What we do…
If the client has a proposal already developed and needs validation and/or a feasibility study conducted, we will evaluate it using the guidelines set forth here. If the goal is broad and simply requires revenue growth by either pathway, our approach remains the same; however, we will look for opportunities to expand or develop new products or services that are in alignment with the client's portfolio and capabilities. In both cases, we try and limit costs as much as possible by collecting the data through desktop research means and syndicated data sources. We begin by gathering all information available from both sides of the equation, external and internal while concentrating on the key focal areas as part of our assessment along the way.

Your competitive advantage…
Our opportunity assessment will bring a disciplined approach to inform your decision making process. In the end, you will know what the market will accept and not accept, which products or services can win over customers and at which price points, and how far you can expand your selling footprint and not cannibalize your current brands or invite  a price war from your competitors.