It's the journey you remember
In commerce, customer experience (CX) is defined as the product of an interaction between an organization and a customer over the duration of their relationship. Leading companies understand that they are in the customer experience business, and they understand that how an organization delivers for customers is beginning to be as important as what it delivers. Paying attention to the complete, end-to-end experience customers have with a company from their perspective should be the critical focal point. The evolution of customer experience has been rapid, it used to be just measuring random satisfaction was enough, now its journey management. Even some of the most advanced customer centric companies still only focus on individual interaction touchpoints devoted to billing, onboarding, service calls, and the like. However, customer needs aren't modulated like this, they view their relationship with a company as a series of business outcomes, with a beginning and end, not individual touchpoints. Even if employees execute well on individual touchpoint interactions, the overall experience can still disappoint.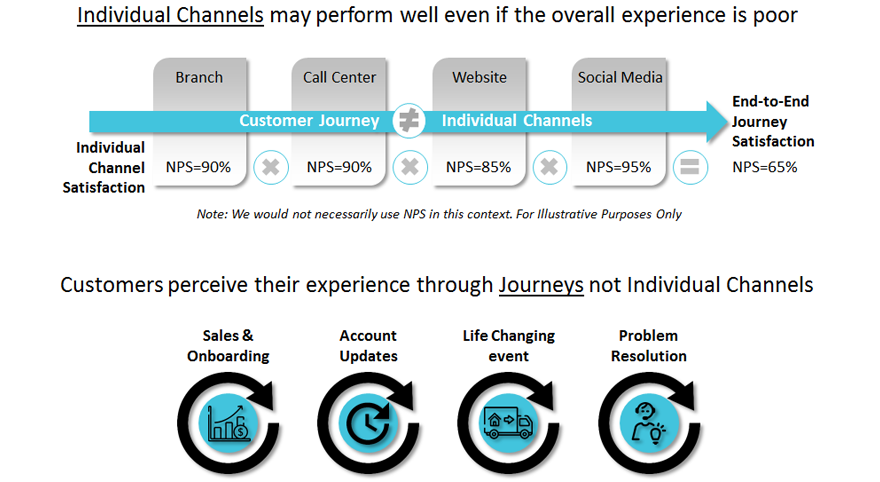 There are three critical metrics used to measure customer experience…
We all know about the widely used Customer Satisfaction Score (CSAT), for which a respondent has to express his/her satisfaction for a certain topic typically on a scale from 1-10. In 2003 the Net Promoter Score (NPS) was introduced.  NPS is an improved measure of long-term happiness compared to CSAT, and is strongly correlated with measures of company growth. With CSAT one can be satisfied, but complacent, NPS is a better predictor of customer behavior.  However, keep in mind both of these measures are "effects" or outputs/outcomes from a customer journey.  Finally, a different measure was introduced in 2010, that addresses the "cause" or input, the Customer Effort Score (CES). CES takes a different approach compared with the previous two metrics, the customer is asked how much effort they put into a certain interaction with the company. Our research shows that service organizations increase CSAT and NPS primarily by reducing customer effort – i.e. helping them solve their problems quickly and easily – not by trying to delight them in service interactions.
Understanding causes/effects or inputs/outputs…When comparing CES, CSAT, and NPS, our research shows that these scores correlate with each other.  Customers that indicate they had to make little effort to fix a problem, tend to give a high CSAT, which in turn leads to higher a NPS score.  The upstream factor to control and manage is CES (input) which drives CSAT (output) which ultimately drives NPS (outcome). Therefore, by focusing on improvements to CES companies can ultimately enjoy higher NPS scores. Think about it for a minute, when you interact with your financial provider to track down a mysterious charge you want a quick and easy experience (CES) that instills confidence (CSAT) and provides peace of mind (NPS).
For example, our customer experience surveys always integrate all three metrics, CES and CSAT questions at the beginning to analyze specific journeys to assess and pinpoint areas for improvement, followed by NPS questions to gauge overall customer experience.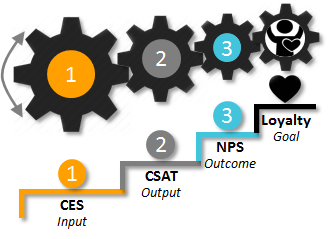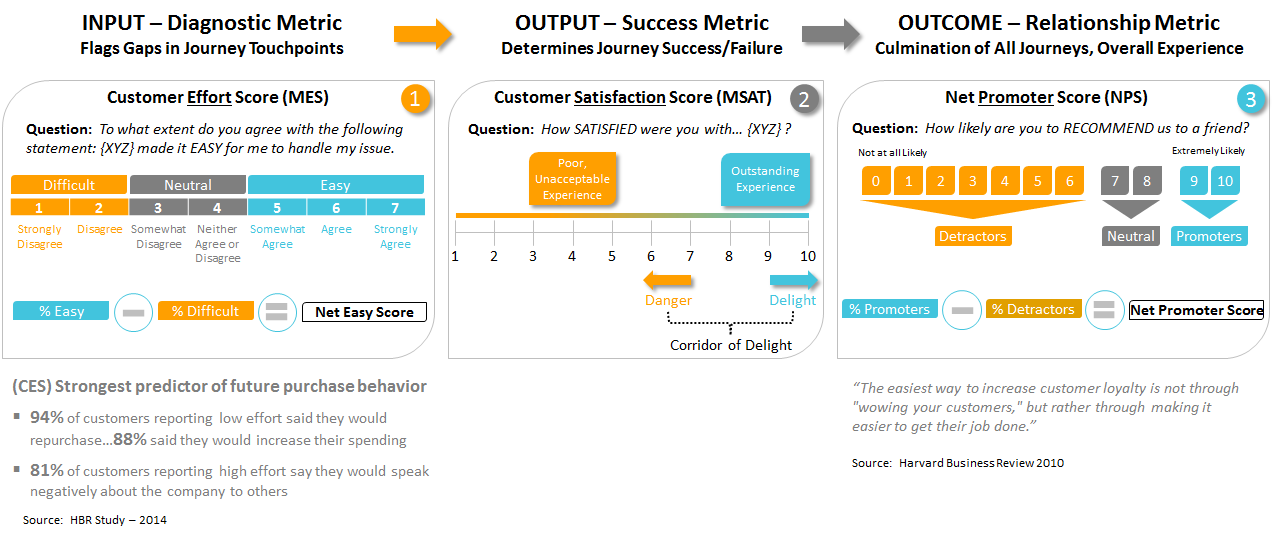 Example Customer Journey – "Opening a New Account"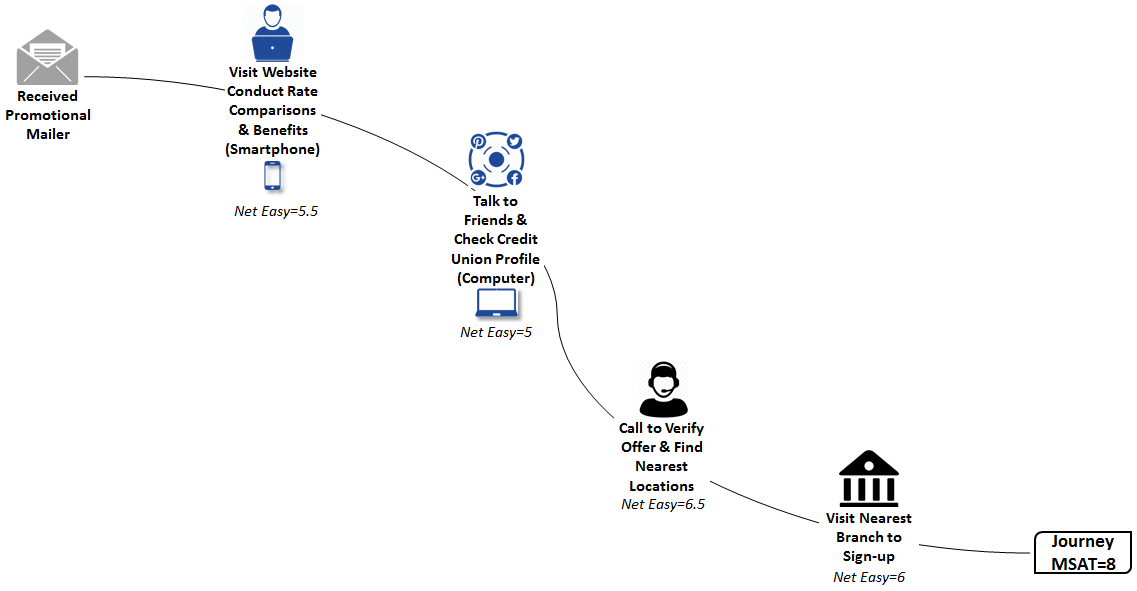 Question: When opening your new account, please indicate how you made contact with us, please include any informational gathering contacts. Also, please specify the number of visits and rate your level of effort and overall level of satisfaction with the outcome.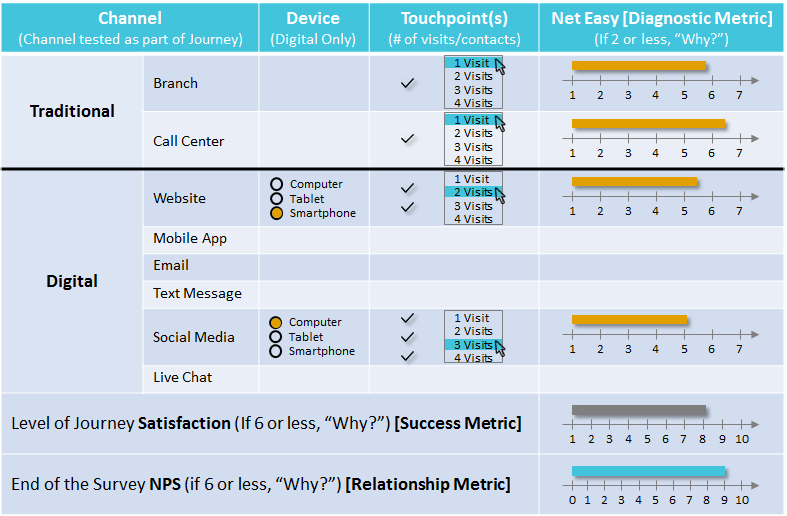 Triggers & Drivers of Key Metrics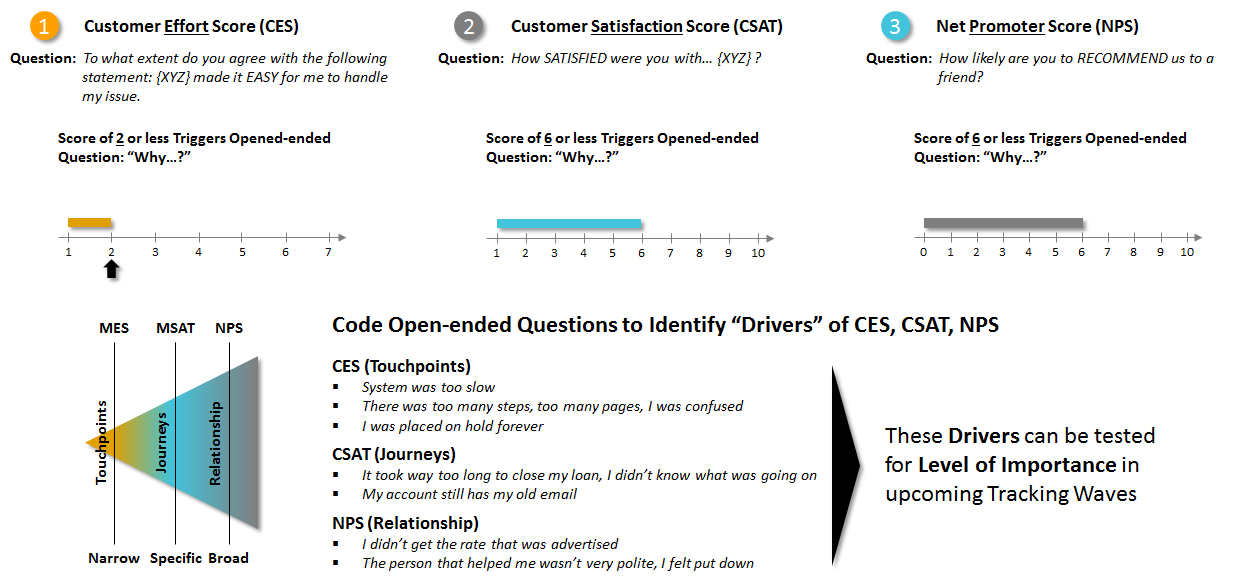 Developing Targets and Setting Goals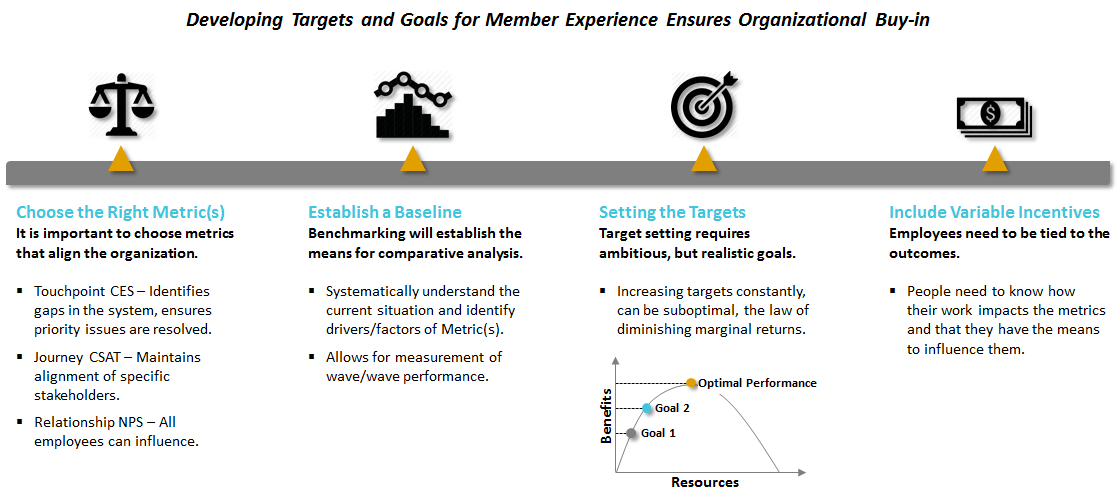 What we do…
We begin by auditing all of your customer interactions and touchpoints. The results are fed into a framework to identify all end-to-end experiences in a mapping process that will ultimately showcase the relevant customer journeys. In conjunction with the mapping process, we will setup a standard set of measures (within a survey instrument) to track and benchmark performance along with the identification of the key drivers of CES, CSAT, and NPS.


Your competitive advantage...
Customer experience is one of the great brand differentiators – When customers are happy with your brand, loyalty increases, and with that, sales volume (through increased purchases and frequency). Repeat customers are worth their weight in gold – An old marketing axiom states, it cost 4x more to acquire a customer than to retain one. A focus on customer experience also drives advocacy, in today's social media world, word-of-mouth referral advertising can be a game changer.