The most overused and least understood
The term brand strategy is to marketing as to what focus groups are to insights development.  They're common expressions often used unwittingly by folks as placeholders for these two most critical marketing functions.  So, what is brand strategy really?  Well, let's demystify this ubiquitous term and explain how we use it at Cayenne.  First of all, most of the confusion (and problems) stem from two primary issues—improper or uninformed use of brand models (of which there are a multitude), and the lumping together of brand strategy disciplines. This usually results in a muddled mess of marketing jargon and disparate parts that are neither advantageous or actionable.  Since brand strategy is central to Cayenne's marketing philosophy, it follows that we better have a solid methodology and real purpose behind our approach—and we do!  We adopted a divide and conquer mentality. We begin by dividing brand strategy into its three main disciplines: brand positioning, brand architecture, and brand extensions, and further divide these into their component parts. Each component part is developed by following a step-wise process with full transparency that is informed via customer insights and internal business strategy.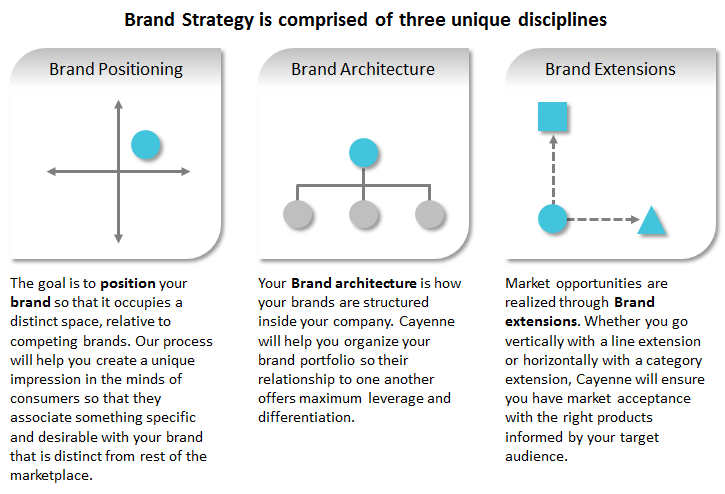 Why invest in your brand?
The brand should be the first impression made on a consumer.  It tells your target audience who should benefit, how it is different, why they should trust it, and what value they should expect.
A brand is one of the few things a company can own forever. Without patents, technological or intellectual property, or other barriers to entry.  A company's brand is one of the few assets it can rely on to differentiate itself from the competition, extract value, and enhance profit margins over time.
Definitions
Brand: The sum of all the associations, feelings, attitudes, and perceptions that people (consumers) have related to the tangible and intangible characteristics of a company, product, or service.
Brand Relationship: The promise to deliver a specific set of features, benefits, and services.
Brand Attributes:  A set of characteristics that identify the physical, character and personality traits of the brand, similar to the attributes that allow us to consistently identify individuals.

Brand positioning starts with a global value proposition that includes a promise of value to be delivered with a belief among consumers that the value will be experienced. It is the conceptual place you want to own in the minds of your target audience—the unique attributes, features, and benefits you want them to think of when they think of your brand.  Most importantly, it differentiates your offering from the competitors and provides exclusive customer value. Additionally, the brand must have a memorable image that captures the imagination through its distinctive personality, tonal qualities, visual appeal, and its true essence—its spirit.  In the end, it serves as an internal instruction set to guide and inform external implementation of all things marketing.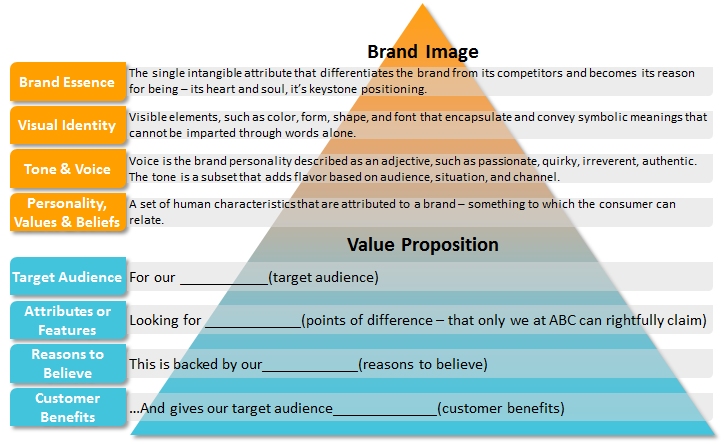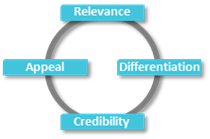 Positioning = Value Proposition + Brand Image
One thing about Cayenne, we like to use simple, proven, and effective strategies and methods, hence the value proposition and brand image frameworks you see here.  There is a lot of clutter in this space, and we're always entertained by what creeps into the conversation. However, our positioning process will help you to stay focused on what's important, and what you can realistically manage to develop a clean and cohesive strategy and presence. On the surface it appears to be a rather simplistic model, but do not be fooled, each component needs to be thoroughly studied and discussed.
Let's take a closer look at the Value Proposition – Trust us, it's worth it!
At first glance, this model seems easy enough to understand and use—and it is, but as your mom always told you, looks can be deceiving.  This model is used for everything requiring market positioning:  Brands, Products & Services, even HR departments looking to attract and retain talent.
The Target Audience must be identified and understood.  This involves breaking a market into segments and then concentrating your marketing efforts on one or a few key segments consisting of the customers whose needs and desires most closely match your product or service offerings. Segmenting your audience can be accomplished through a variety of means:  demographically, geographically, psycho-graphically, etc.  See Target Market Definition  and Attitude & Usage study.
The Single Point(s) of Difference—For brands we call them attributes, for products we refer to them as features.  They are determined by prioritizing unmet needs as indicated by your target audience, not currently fulfilled by the competition. At the highest level there are only three ways brands can be positioned:  Price-Centric, Product-Centric, or Customer-Centric, or some combination of the three, and are fixed through an immutable law of marketing. Under these fixed points, brands in specific categories determine with a much finer point how they will own a specific set of attributes, that will clarify and differentiate their position among these fixed points.
The corner stone of any good positioning relies on its attributes.  It is said that really good brand attributes are "value drivers." They not only possess extreme importance to your target audience, but they are different enough from the competition so that you can carve out your own space in all the noise.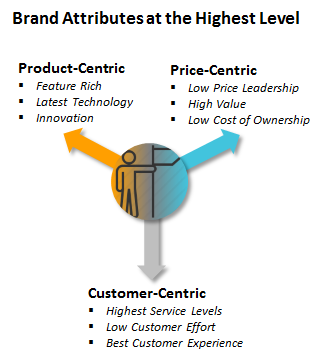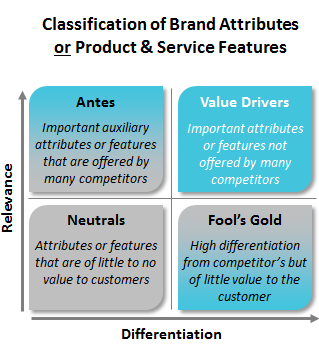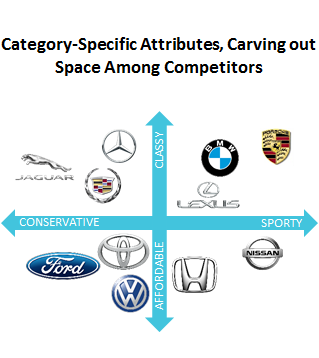 Reasons to Believe or as they are commonly called, RTBs, are the proof points consumers rely on to support and provide confidence in their choice of brands.  They should be rooted in those operational capabilities the company can reliably and effectively deliver on. Although, led by marketing, it is imperative that this part of the brand positioning process include all relevant cross-functional stake holders since this part of the equation requires the entire organization to make this a reality.
Reasons to Believe Examples
Ford F 150 –highest EPA-estimated fuel economy ratings of any full-size gasoline powered pick-up on the market
Chevy Colorado – MotorTrend's 2017 Truck of the Year
QuickBooks – 4 million business run on QuickBooks
Perdue Poultry – No-Antibiotics-Ever, and an all-vegetarian diet
St. Jude Children's Research Hospital – families never receive a bill for treatment, travel, housing or food
In the marketing world, we talk a lot about benefits. Customer Benefits are the real reasons why a customer will buy your product or service, because it offers them some unique value.  In other words it solves a problem for them, makes them feel a certain way, enhances their career or self-image, saves them money… whatever.  If you can make the benefits of your brand positioning clear to the customer, then you have a much better chance of making a sale and hopefully building a long term relationship. However, it is very easy to fall into the trap of espousing features and not real benefits to the customer. For example, a cable company might boast of the latest technology in DVR programming, but unless you are well versed in that space it falls flat as just another feature, rather than something tangible, such as never miss a show or a sporting event. To avoid these traps we like to think of benefits as belonging to 4 categories, and if you can find all 4 in your brand positioning and express them clearly to the customer, then chances are you are going to win them over.
4 Categories of Benefits
Core Benefits – These are the main functional benefits of your product. For example, the core benefit of a Porsche (or any car) is that it provides a way to get from one place to another.
Expected Benefits – These benefits are often unstated. Using the Porsche example, it is expected that the car is fast, stylish and expensive. Nice, but no big surprise.
Augmented Benefits – These are benefits beyond the expected, and may offer added value, surprise, or excitement. For example, did you know that a Porsche is safer and holds its value better than any other luxury sports car? Most folks don't know that and it adds a level of extra benefit to that scary price tag.
Potential Benefits – These benefits are often more implied or imagined (although a lot of advertising displays them pretty clearly), and they create emotional reactions in the customer. For example, a customer imagines him/herself gaining status by owning a new Porsche, getting the girl/boy, impressing the CEO or client, racing on the Pacific coast, and so on. Whether it's real or not, the potential benefits often stir the most emotion and ultimately make the sale.

What we do...
We'll start from scratch using information gathered from the A&U insights study and/or desk-top research and customize a brand positioning that provides RELEVANCY, DIFFERENTIATION, APPEAL, AND CREDIBILITY.  The brand brief we provide will include: an aligned value proposition (brand promise), brand image elements with descriptors, and suggested usage forms—everything you need to guide communications, corporate identity, and product & service development.

Your competitive advantage…
A marketing strategy that is an extension of the brand strategy when planned well— all dots connect seamlessly and efficiently. You will have a brand promise you can consistently deliver and own, that your competitors either do not own or choose not to. Your prospects and customers will find true meaning and unique value in your brand. You will find that a robust brand positioning strategy upfront makes all subsequent marketing more effective, and ultimately saves both time and money in the development of new or revised marketing materials.

Brand Architecture is another one of those terms tossed around a lot, but never really grounded in good marketing science.  In summary, it is the logical, strategic, and relational structure for all brands in the portfolio; it is used to ensure clarity, synergy, and leverage. Okay, so what does that mean exactly, and how do you optimize your brand(s)—or what if you are developing a new brand or recently inherited others?  A lot has to do with your existing portfolio and what new brand or markets may be chosen for entry next.  Sometimes an existing portfolio merges with, or acquires, a competing brand (usually the case).  You don't want to cannibalize the existing brands, so you have to make choices as to how you want to grow your position without sacrificing brand equity or worse, customers.  As you can see below, each structural model has strengths and weakness.  Your choice for growth of those positions should depend upon current and future goals.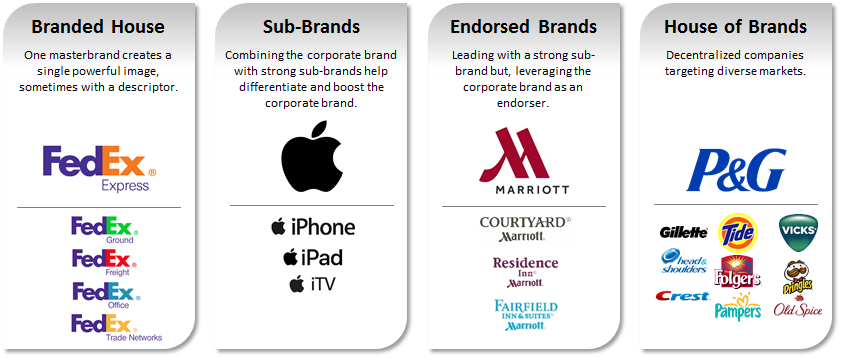 What we do…
We evaluate your long-term growth goals against the markets you are currently serving, and hope to serve.  We thoroughly evaluate your brands and customers—determine equities, positioning, synergies, products & services, competitors, and market trends.
We set-up a road map and hierarchy for your brands based on the optimum approach we have outlined here.

Your competitive advantage…
You will have a brand structure that is aligned to your customers and markets that maximizes growth potential and footprint without sacrificing existing brand equities.

Brand Extensions can be great strategies for growing market share, or for strengthening a brand—when they are done correctly.  Often times companies get a little too zealous and let their appetites for market share run away with them.  Usually the blunders occur with horizontal extensions, trying to enter completely new categories with legacy brands. The critical calculus here is you must have domain permission.  Categories are living breathing eco systems—you can't just walk into one with a legacy brand and hope for similar success that you enjoyed in the previous category.  The category simply rejects the equity from legacy brand you hoped to leverage.  There are numerous examples of failed ventures, and you don't often hear about them but they happen all too frequently—we'll save them for another time and place.  As you can see below, there are two distinct forms of extension: the Horizontal and the Vertical.  Each has its own unique risks and upside. The most popular types of extension are the Line and Up/Down Scale extensions because they are inherently less risky.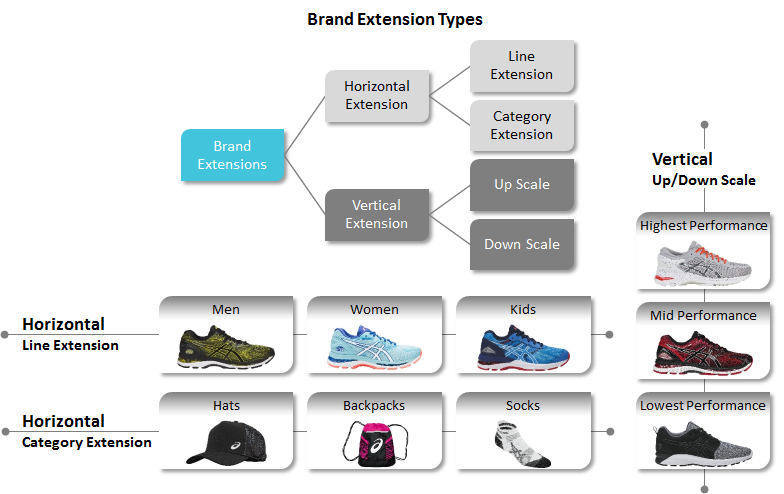 What we do...
First, we take a close look at your brand architecture to see if it needs to be rationalized in any way—very important before any extension ventures.  We then assess the equities in your brand(s) to identify expansion points and missed opportunities. Our extension evaluation is very comprehensive and far ranging, and typically works in conjunction with our product concept testing study. This ensures market acceptance of any proposed horizontal or vertical extension strategies and puts a much finer point on how to successfully go to market.


Your competitive advantage…
The investigation and analysis we pursue will not only increase your chances for success, but will uncover any and all missed opportunities for future expansion and share growth.