Mi casa es su casa
Cayenne Global was founded on its expertise to glean insights from the Hispanic community.  Why?  It's simple really, Hispanics make up nearly 60 million of the U.S. population – by far the largest single minority segment and growing at a significantly higher rate than any other subgroup, with nearly 2 trillion $ in buying power.  Companies have realized that they just can't lump every culture into one bucket and try to impress them with non-targeted English only advertisements – especially the Hispanics, it doesn't work. Hispanics have a very unique and strong familial culture with one of its hallmarks being extremely brand loyal.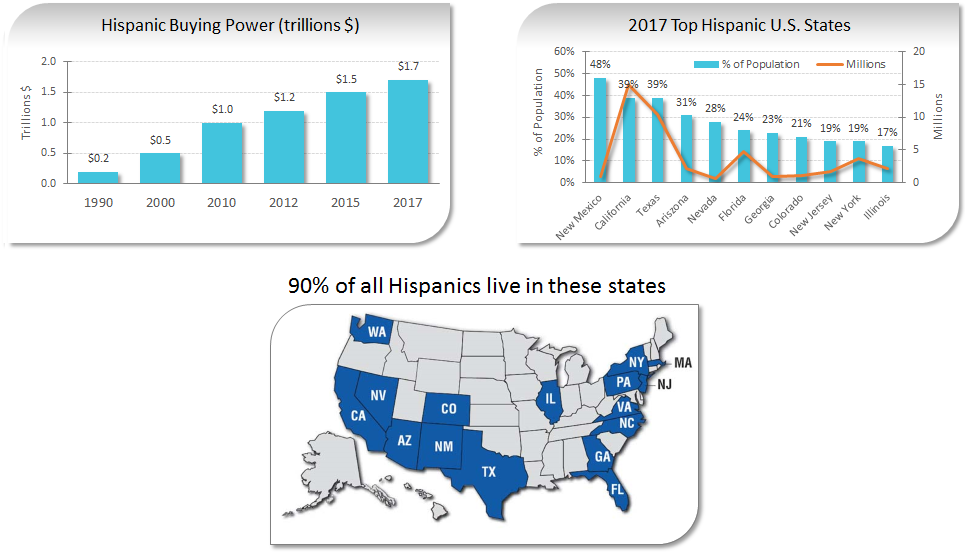 The Hispanic market is not monolithic
Many people talk about the importance of the Hispanic market, how large it is, how much buying power they have, and how it is a "must reach out to" group to increase sales. We agree, and yes, this is all correct. However, Hispanics cannot be defined solely by the Spanish language alone. Beyond language, cultural assimilation is the first real step to understanding the Hispanic market, better known as acculturation.  We take great care to identify the three main acculturation segments: low, mid, and high.  Of course, there are other factors to be considered when marketing to Hispanics, but the acculturation level is key

Having the right approach makes all the difference
Developing an insight practice dedicated to the Hispanic market requires a unique combination of both art and science. Don't be fooled by other vendors who have simply added Hispanic research as a complimentary service, we have developed an organic solution taken from industry best practices and improved upon it over the last ten years.
Language & Translation
One issue that is very important in Hispanic research is the use of language. While most low-mid acculturated Hispanics speak Spanish fluently, the Spanish spoken is different between countries. Therefore, communications (e.g., questionnaire wording, moderating, interviewing) need to allow for these differences. To mitigate comprehension issues, we use Costa Rican Spanish for all of our translation projects, this dialect has proven to be the most universally accepted and least problematic among our respondents.
Research Design & Data Collection Strategies
Hispanics are quite different from the general market and require different approaches to insights development.  Everything from cooperation rates and numerical scaling to central location testing and computer-aided phone interviewing need to be considered for accurate and efficient research strategies.
Sample Frame Considerations
Although Hispanics are spread throughout the United States driven chiefly by immigration patterns, the top Hispanic markets are well known and used extensively.  Hispanics tend to concentrate in specific DMA's and markets (South/Southwest) where we have long standing relationships with focus group facilities and thorough knowledge and experience.
Acculturation Modeling
To account for acculturation in Hispanic research, we use a proprietary model that segments based on a series of demographic and psychographic questions.  Some of the questions include place of birth, percent life in the U.S., language usage, and media usage.
Hispanic Subject Matter Experts
From our many years of conducting Hispanic research we have assembled a team of Hispanic research professionals that are recognized as top talent in their respective fields – they are dedicated to Hispanic research only and bring an average of 10+ years of field experience.

What we do…
First, we evaluate the media channels  where you are likely to reach your target audience – this becomes the "box." From inside the box, we parse individual message types against the most effective channel for greatest impact. Then we apply the costs: for each channel, creative development, and resource time commitments, and begin the optimization process. We highly suggest a tracking survey as a compliment to this process to measure reach and impact, and to ensure maximum ROI.


Your competitive advantage…
Being able to optimize your media plan gives you cost savings, while boosting sales with a more targeted and precise approach.