Who we are
Cayenne Global was founded in 2008 by a core team of ex-corporate executives, each having served over 20 years in some of our nation's top tier marketing institutions across many industries.  Originally, we started out as a consumer insights firm supplying many big brands and agencies with primary market research.  However, over time, some of our smaller clients frequently asked for help with their go-to-market strategy and planning.  It didn't end there though.  Pretty soon we were assisting with all aspects of their marketing program, including advertising, product development, and customer experience.  As this started to became the norm, we had one of those epiphany moments and decided it was time to roll up our sleeves and re-dedicate ourselves.  It became obvious to us that there was a real need to serve the often underserved small and medium businesses that typically don't have the big brand resources and provide them with specialized marketing support regularly enjoyed by the their much larger brethren.
How we're set up
Cayenne Global was originally organized around consumer insights delivery with a geographically diverse network of locations designed to optimize execution and cost savings.  As it turns out, it also serves tremendously well for all types of marketing support activities.  Our competitive advantage is now your competitive advantage.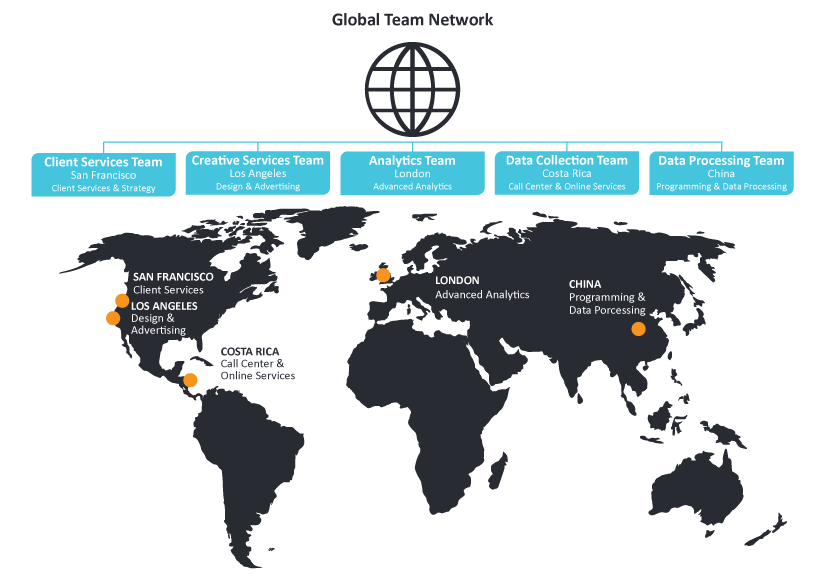 Why we're a good fit
Combating the marketing challenges that plague small and medium businesses is what we do.  It's our passion.  It's in our DNA.  Every resource associated with Cayenne is a small and medium business owner, so we're not just cogs in a wheel of a greater machine. Although we all came from those big machine environments, we're leveraging that experience now from the great training they provided. Each of us is mindful of what race we're in—the race against limited resources and competitive forces.  Yes, we have big ideas and sophisticated thinking, but we temper our approach to our audience and only propose the most practical and beneficial concepts. Our clients want great things for themselves and their employees—on a budget.  And so do we.